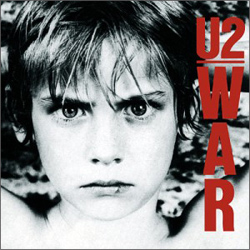 When February blew in this year, there was an immediate rush to celebrate U2's 30th anniversary release of the War album. I decided to take the high road and sort of waited to celebrate closer to the actual release date of February 28th and then praise the record, which I am surely doing with this short posting.
What makes the War album special in U2 history is how it launched the band onto the world's stage. The first two records knocked on the door and third one, War, opened it. It was U2's first true political record and a turning point in the band's narrative. They were no longer singing about youth and religion. Instead, they were making music, pinpointing bigger issues outside of the four members. What was great the record was they were blooming and not afraid of taking a stand. They are however Irish and tough blooded men. With Larry's ferocious drumbeat and Adam holding the low end, the band was now making rhythm an anchor of the narrative. In addition, the musical landscape was changing around them as well. The punk movement had dies and MTV, now a major player in the business, was pushing fluff. Yes, there were videos released from this record in order to build the band's base, but it was still a grass root effort. Once you heard the record and let it sink in, no matter how you listened to it, one became hooked.
I am surprised that the band has never revisited some of the tunes on recent tours. Yes, I know there is Sunday Bloody Sunday and New Year's Day, but they have never marched out Two Hearts Beat As One or The Refugee much like they marched out the Electric Co from Boy on recent tours over the past decade. It is my feeling, that the second level tunes on this record, are just as solid as the up-front war-horses, excuse the pun. However, with an impending album release and tour to follow, it would be great for U2 to make a nod to this record and delve deeper into it for the simple reason that this album made them who they are today.