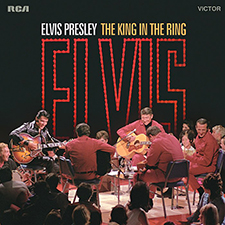 50 years ago, Elvis taped a live show for NBC dubbed Elvis. However, it is better known by hardcore fans as the '68 Comeback Special. What made this an "television event of the 60's" is that the 33 year old singer had not been in front of a live audience for almost 10 years. If you watch the clips on YouTube today, you would never know that this amount of time passed for Elvis. In fact, he looked fresh and excited to be back performing in front of his audience. Thanks to the recent Record Store Day event, Legacy Recordings released Elvis Presley The King In The Ring, an intimate insight where The King sits with his guitar player Scotty Moore and drummer DJ Fontana, plus others, revisiting Presley classics, including Blue Suede Shoes, Heartbreak Hotel and the Christmas classic, Blue Christmas.
I am sure you are interested as to what this has to so with U2 and the B-stage they created on the ZOO T.V. tour. Basically, Elvis shows how a showman such as Presley wanted to rekindle the fire he had with his adoring fans, who had been left behind as he left them to be soldier in the U. S. army and an actor in Hollywood, which kept him away from touring. From the U2 perspective, Bono et al too took time off after The Joshua Tree / Rattle and Hum jaunt to reinvent themselves, recording the album Achtung Baby, which pushed their creativity further than it had ever been done before. With that said, I believe that the band had to reach out to their quite possibly alienated audience, who were overwhelmed by technology at the outset of the ZOO T.V. concert, and bring them back in by creating an intimate performance space, hence the B-stage.
Who was the influencer of the B-stage? Well, by this recording of Elvis Presley, we can say it was U2 band member, and Elvis fan, Larry Mullen, Jr.. I am quite sure he had seen the '68 Comeback Special recording, which meant that he had knowledge of how a performer, like Elvis, created that tight connection with the adoring audience. I know it is a leap of faith that I make this claim, but Elvis sitting amongst his fans had an impact on U2 in developing the B-stage some 20+ years later. One cannot deny that if you have seen footage, or attended the ZOO T.V. tour, that Bono and the band created a similar moment, which they still incorporate into their current live shows today. The King may be long gone, but his navigation to rebrand himself, using television and stage design,  definitely had influence on U2 and others long after his passing.