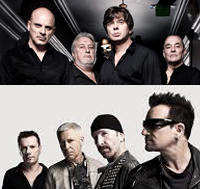 A few days ago, someone posted a Tweet about U2 covering The Stranglers. It piqued my interest as I have been a fan of The Stranglers since their rise in the punk world in the 70s. At the time, I was living outside of London, in Reading, while my parents were on sabbatical leave from their university life in Champaign, Illinois. I did not become a full fledged punk enthusiast until years later, but that year in the UK made a huge impression, even if I was still under the influence of KISS.
Anyway, the Tweet sent me doing some research. I knew that The Hype, U2's previous incarnation, was a cover band. The bands they covered were their modern day heroes, including David Bowie, The Eagles and surprisingly, The Beach Boys, but nowhere is there a mention of Strangler's tunes they covered. However, Adam Clayton mentions that he was influence by Jean-Jacques Burnel bass line on The Stranglers' tune Hangin' Around, which gets me thinking that this is the tune that the Hype covered. So, let's say we uncovered the much talked about mystery tune.
The Stranglers and U2 are no strangers to one another. The up and coming Irish rockers were an opener, for at least one night in Ireland, when The Stranglers were out on the road promoting their LP Black and White. Altercations between the young U2 and the established Stranglers from that night are well documented. Bono used his tough Irish street sense to let Jean-Jacques Burnel and company know that our favorite Irish lads weren't going to be treated as second class citizens even though they were the opener. It begs the question, "What happens when you meet your heroes and are treated like shit?" When you're a punk band, it should've felt like home, but to U2, it obviously wasn't. When Bono and company weren't given a dressing room nor much stage room to perform on, the band took it on their own to pillage The Stranglers' dressing room while they were on stage. A brash U2 wasn't going to go easily.
Although they have been through a couple incarnations, The Stranglers are still together. I finally saw my punk heroes a year ago in a club here in Chicago promoting their latest disc, Giant. Even though they didn't have founding drummer Jet Black, they're still the punk band I remembered from my youth. Going on 40 years together, scoring some 23 UK top 40 singles and 17 UK top 40 albums they still have it. Surprisingly, they are the top selling band of their punk generation, which include The Sex Pistols and The Clash. And yet, not too many know their story and I hope from this blog it gives you the impetus to give them a spin.