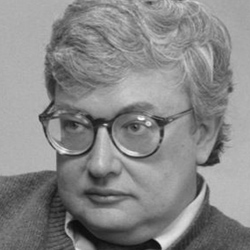 I moved to Chicago some 23 years ago for a few reasons. One was the better opportunity to catch a U2 show. I knew that their coming to Iowa City on the Joshua Tree tour, when I was in college, was a fluke and that they would not really see the likes of Iowa again as a place of visit on their next tour. Actually, I was wrong. They did play Ames on the Outdoor ZOO TV tour, but that is neither here nor there in this blog conversation. What is of importance is how I got introduced to this great city and for that I have to thank the likes of Roger Ebert. I fell in love with Chicago, not from the movies shot here such as The Blues Brothers or Ferris Bueller's Day Off, but from film criticism in the form of two guys sitting in a theater and reviewing movies. The show, Sneak Previews, was based in Chicago and featured two bantering film critics, Roger Ebert and Gene Siskel, who became like close friends through Public Television. I glommed onto the show because my parents took me to the movies every Sunday as a kid and I loved to get lost in film.
Once I moved to Chicago, I still tuned into Gene and Roger's show, which had now moved onto commercial television with a hokey thumbs up or down reviewing system. I didn't care for the new stamp of approval, or disapproval process, but I still was a habitual viewer to hear what they had to say, which to me was more important. Gene and Roger seemed to have an air of attitude, especially Gene, but that wasn't the case as I found out soon after I moved to the city. One evening, after we closed our Starbucks store in Glencoe, a familiar face came to the door, requesting in. A very apologetic Gene Siskel was looking for a birthday gift to take to a party. We obliged and let him in even though our registers were closed out for the day. Without hesitation, we waited on him and got him on his merry way like we would do with any customer of ours, well known or not. The cool thing was it was Gene Siskel and I was not star-struck. It was Gene being a normal Joe. A few years later, when U2 was in town for PopMart, my aunt recognized the same film critic in a store on Michigan Avenue and asked to have a picture taken with him, showing the thumbs up. He was grateful and so was Roger in ever bit the same manner.
Roger passing last week dimmed out city lights once more. Gone was the second half of a great team in film criticism and one of the reasons why I glow when I talk about this great city of mine, which I have called home for the past twenty-three years. Chicago was a newspaper town when I moved here in the early nineties. Conversations about what we read in the Tribune or the Sun Times were commonplace. Thanks to the Internet, those days are long gone, but for Roger he embraced the Internet and marched on, still reviewing a gob load of movies even as he became more and more ill. For that, we are indebted to him. We may not have agreed with him, but we can agree on one thing, we have lost a "Classic," as noted in the headline, gracing the cover of Chicago's Red Eye newspaper the day after his passing.