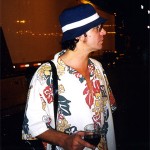 Dear Michael,
Hope things find you well as you are getting ready for the Australian leg of your upcoming tour.
I am touching base after our conversation this past August here in Chicago about doing some custom painted pieces……
The ringing phone interrupts my thought. My pal Randy was on the other line.
"Hey, turn on CNN. There's news out of Australia that Michael Hutchence committed suicide." His voice crackled over the phone. I got up off my chair and ran to the other room with cordless phone in hand. I flipped on the television and turn to CNN headline news. I missed the story.
"You're kidding me right Randy?" I replied as I paced back into my makeshift home office.
"No, I am pretty sure I heard it correct." He said.
"This cannot be happening. You're not going to believe this. I'm actually sitting down to write him a fax and send it to his New York agent as we speak." I was depleted.
"Really?" Randy replied.
"Yes, really. I have dial-up. Need to kick you off the phone so I can confirm the news. I'll call you later." I clicked the phone off and fired up my network protocol in order to dial into the Northwestern University server. I was on the web within a few minutes and clicked to CNN.com. The page loaded slowly on my Dell 486 machine. I waited. Randy was right. There was Michael's picture with the dates 1960-1997 inscribed below. I was crushed.
Three months prior I was backstage with INXS when they visited Chicago for a Q101 show. I could feel the tension as the band was trying to get back to its glory. It seemed as though time had passed them by and their recent album wasn't working hard enough to rekindle the old flame. Actually, it was the label, as usual, that was causing the havoc. Let's ad to firing a manager as well. Nothing was going right for the band. Add to that, I had no idea there was turmoil in his personal life.
When Michael came through the back stage gate that night in late August of 1997, I was one of the first to greet him. He was such a lovely and charming person. He was gracious as I gave him a piece of custom painted jean wear. I had been in touch with his front office and sent him some work earlier in the spring. I waited all summer just to see him and the band. I wanted to custom paint work again and tie into a band. Michael, I thought, would be a great match. Sadly, it came to an end faster than it could start.
When I met Bono on the street some years after Michael's passing, I gave him an envelope with the picture above of his friend. We were amongst a crush of people and I had to speak quickly. Bono attempted to sign the envelope and give it back to me until I told him there was a picture of Michael Hutchence inside. Bono looked at me with his piercing blue eyes and paused. Speechless, he was very polite and said thank you. It was that one time I made a connection and it stuck. Who knows where the photo ended up but I gave it to someone who would cherish it.
I miss Michael. Music is not the same without his soulful voice and his great band by his side. Nothing will top Kick or Listen Like Thieves but Welcome to Wherever You Are comes close with its raw power in songs such as All Around, Taste It and Heaven Sent. Not Enough Time is a brilliant song along with Strange Desire. If you get a chance, pick up a copy of their last album, Elegantly Wasted, and give it a spin. It is a great record with a lot of heart. It will remind you why INXS and Michael were so special.