I was going to use the word muse instead of inspiration but it would be the wrong word choice. So typical of us Shivvers' who have a tendency to chop up the English language. Let's stay on track about the mannequin legs, which initially resided in my aunt's Glencoe artist's studio. They're the bottoms of a woman's torso just leaning against a wall. I took a fancy to them. One afternoon, after I moved to Evanston a few miles from Glencoe right out of college, my aunt showed up at my place with them under her arms. They were now mine.
Up until this moment in 1991, I was custom painting jean jackets. As the legs took up a two-year residency, a subtle idea bounced in my head about dressing them up in jeans and painting them. It was another one of my far-fetched ideas but painting something on a form was a cool idea. It would help in working out the blind spot issues I came across in painting jackets which were stapled to a plywood board. Those areas wouldn't reveal themselves until I pried the jacket off said board.
One night, for no apparent reason at all, I grabbed a couple floodlights, also donated to me by my aunt, and some fabric paints. I dug through my U2 cd collection and found creative inspiration in some cover art from one of the discs. I threw a pair of jeans on the legs, having no idea where this was going except for possibly cool, and began to paint from the bottom of the pant leg up to the knees.
As I came to a juncture of what to paint in the crotch, I had to sit back and think of what would make the most impact. I decided to brand them with the band, U2 for the crotch and Actung Baby for the butt. It made perfect sense from this graphic designer. I took the handwritten scrawl of Achtung Baby from the album cover and threw it into my opaque projector. I splayed the type just so on the crotch to fit and be legible. I turned off the floodlights and traced the graphic with the hum of the projector breaking the room's silence. I filled in the areas with white paint. As the letters took shape, I was getting itchy to wear them. I grabbed a hair dryer and forced the paint to dry a little quicker. I touched the white area with my finger. It was dry enough for me to throw them on and I did.
Wow, the paint shrunk the jeans and they were tight! I had to sunk in my stomach to get them on. Sadly, I had no full-length mirror to see what I had just created but if I stood as far away as I could from the mirror above my sink in the bathroom, I could get the idea. Bitchin. Now they had to dry so I could wear them. Within days, I was wearing them on the streets of Chicago and stopping traffic.
In hindsight, I don't remember when I exactly painted the jeans but I think it was in the spring of 1993. That summer, U2 would be taking the ZOO TV tour outdoors across Europe in promotion of their album Zooropa. The tour would end in Dublin and as it did so, I thought now was my chance to send the band my work. I had done it once before with no avail because I sent slides. BORING. This time, I said screw it. In a DHL bag the jeans went and off to the Edge in Dublin. I chose him of all band members because he wore these funked up sequined jeans on stage and I thought he would be responsive. I was shocked, as it is documented in the book, by the response I received when I called band management shortly after the Dublin show in August of 1993. My heart came out of my chest when I was asked to put a package of custom work together in order to further discuss my idea.
In 2001, I brought the jacket with me to U2's hotel. Bono recognized it immediately and hung it up above us with his two hands for a better view. Once he saw what he was autographing, he gladly grabbed my pen and wrote Bono on your back 2001. (If you go into the gallery, it is the lead image.) Subsequently, I got Adam and Edge to sign as well that day. Sadly, I lost my Sharpie as Larry approached me. He's the hardest of the band members' autographs to get and his name doesn't appear on the jacket but the validation from Bono remains with me as the mannequin legs have long since made an exit from my life.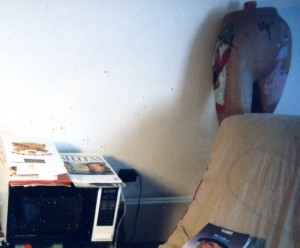 You can see the remnants of paint. I think they were thrown out before my next my move in 1994.